---
CARSTAIRS PIANOS
In tune with whatever your piano needs.
---
Carstairs Pianos: A Brief History
1945:
Having trained as a tuner/ technician in both the Brasted and Chappell piano factories, Alec Carstairs established Carstairs Pianos in a small workshop in the village of Bridge just outside Canterbury. The business offered a tuning and piano reconditioning service for the East Kent area.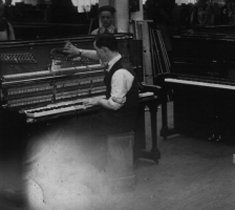 (Click the photo to see more images of the Brasted piano factory from around 1930)
1954:
Mike Stockbridge is employed by Alec Carstairs. Here Mike learns the skills involved in piano restoration. It is also through Alec Carstairs that Mike is trained as a tuner/technician at Welmar Pianos, and Bluthner Pianos Ltd in London.
1967:
Mike & Celia Stockbridge purchase the business from Alec Carstairs upon his retirement.
1984: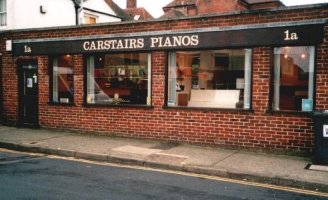 Carstairs Pianos moves to a purpose built workshop/showroom close to the main shopping area of Canterbury. Here major reconditioning work can be undertaken whilst still having a large separate showroom space with room for about 25 pianos.
1992:
Mike & Celia's son James, who also trained as a tuner/technician for five years with Welmar Pianos joins Carstairs Pianos.
2001:
James takes over the day to day running of Carstairs Pianos with Celia after the premature death of Mike.
2015:
A partnership between Celia, James & his wife Nanna is formed as Carstairs Pianos celebrates its 70th anniversary.
---
---
Contact information
Address; 1A Roper Road, Canterbury, Kent. CT2 7EH.
Telephone: 01227 766059.

Open Monday to Friday 2pm - 5:30pm & Saturday 9:30am - 4pm.
E-mail; info@carstairs-pianos.co.uk
© Carstairs Pianos 2002 - 2021.
---